Originally I intended to make this post "live" on the 4th of May simply so I could start off with "May the 4th be with you!!!" but I totally blew it and for that, I'm so sorry. Over the last few weeks, REVOICED has been bouncing around nonstop. So far this year, we've been on countless cruises with Royal Caribbean (and have more down the pipeline), ventured into the Performing Arts Center market with shows in Tarpon Springs, Florida, Macomb, Michigan, Norfolk, Virginia (and more), and had several shows in Florida and the Phoenix, AZ areas. We also have 5 cruises on Celebrity Cruise Lines later in the year, which we're very excited about.

One of the shows that REVOICED had was 15 minutes from my hometown of Smithtown, NY in Brentwood, NY. We had the privilege of performing at the beautiful Van Nostrand Theatre at Suffolk Community College on Long Island and it was one of the most amazingly nerve-racking experiences of my life. To have the curtain go up at showtime and know that 70% of the theatre was filled with family and friends was beyond amazing but made me so nervous. Performing on stage for so many people that you know at once is such a uniquely vulnerable position to be in, but an amazing one at that. Ultimately, they just want to see you succeed and experience what they've heard so much about. I received nothing but wonderful reviews and it was so elating to have everyone experience my REVOICED family do our thing. That show also marked a special evening for another reason…Justin Crichfield, whom I'll get back to in a minute.

I've learned over the course of the last few years that while people may come into your life at one point, it doesn't mean they'll remain there forever. We were all so eager and blown away to have Chesney Snow and his undeniable talent share the stage with us for all of 2018 but unfortunately, Chesney has moved on to pursue some other endeavors, which we wish him the best of luck with. His vocal drumming talents are unmatched in so many ways and we have no question that he'll succeed with his newest endeavors. Together, we had amazing times making some great music and "wowing" audiences all over the globe. We had such a pleasure traveling and sharing the stage with Chesney and are sad to see him depart.

Chesney's departure lead us on a nationwide talent search for the best possible replacement. We had the pleasure of hearing some amazing vocal drummers but at the recommendation of two separate and trusted friends of REVOICED, we were introduced to the all-around incomparable Justin Crichfield. At the ripe age of 21, this cat (while a grade A "clown") is wise beyond his years and nothing short of the word "professional". Justin comes highly recommended from our friend Ben Bram, a two-time Grammy Award winner and one of the masterminds behind a little group called Pentatonix. Ben couldn't stop talking about Justin and his incredible abilities and sure enough… here he is!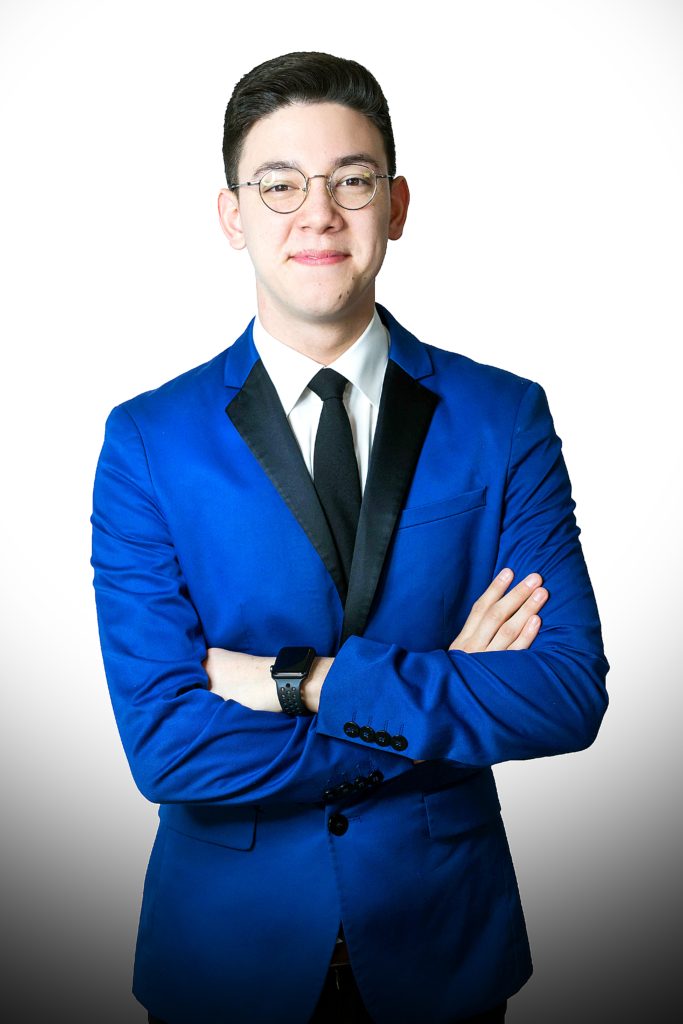 The most recent addition to the group, Justin brings his vocal percussive talents and infectious charisma to REVOICED both onstage and off. His tremendous vocal percussion abilities have earned him much praise and won him the "Best Vocal Percussionist" recognition at several prestigious vocal competitions. His technical abilities and musicianship are on another level than most professionals and has elevated the REVOICED sound and performance to new heights. Originally a Dayton, Ohio native, Justin currently resides in Boston, Massachusetts where he thrives as an audio engineer recording and coaching various collegiate and semi-pro vocal ensembles, which he has also earned several Contemporary A Cappella Recording Awards (CARA's) for. Having only been with REVOICED for a short while, Justin has already fit in seamlessly with us and has been making us laugh nonstop. You'll be sure
So, be on the lookout for some new social media posts and our new Xmas album, which will be coming out later this year year and will all feature the "new" REVOICED with Justin Crichfield. Be sure to get acquainted with Justin (aka @justincrichy) by following him on Instagram.